Is there someone who doesn't love stickers? From kids to adults, everybody loves stickers because of their hues, patterns, easily usable technique, and especially their personalized design. Stickers easily attract the crowd and that is why you should be using custom stickers as your primary marketing tool.
Custom stickers are a fun and budget-friendly method to promote your brand. With minimal investment, you can reach a wide range of customers. Custom sticker printing enables brand promotion, and high exposure and helps you add a professional touch to your branded stickers.
If you are someone who has a bunch of personalized stickers with you and or if you're thinking of getting custom stickers then, this blog is just the one you have been looking for.
How Do You Create Perfect Custom Stickers?
Follow these steps to create high-quality custom stickers:
Design the Sticker :

The primary step would be to start creating an eye-catching, head-turning, and creative sticker. Remember to use all your creativity here but just don't make it too complicated.

Choose the Suitable Material :

While there are various materials for custom sticker printing, always opt for low-maintenance and durable ones. Align your design with your printing material.

Select the Method of Printing :

Choose the printing method that is suitable for your budget, desire, and the material.

Pick a Shape and Size :

Decide the size you want your sticker to be in, whether it's big, small, or medium but never make it too big or too small. Then consider picking from different shapes such as rectangles, squares, circles, or unique shapes.

Make a Trial Batch :

Before making any irreversible change, remember to print a trial batch first because if you don't like it or if there's any fault, you can fix it for the next batch and print perfect stickers.

Cutting and Add Finishing Touch :

Do all the cutting and add the final touches to your beautiful custom stickers.

Quality Check :

After printing and the final touches, now you have to test the quality of your personalized stickers. Make sure it's of high quality and durable.

Distribution :

Finally, you can distribute and wait for the magic of marketing to happen!
Maximize Your Brand Visibility With Custom Sticker Printing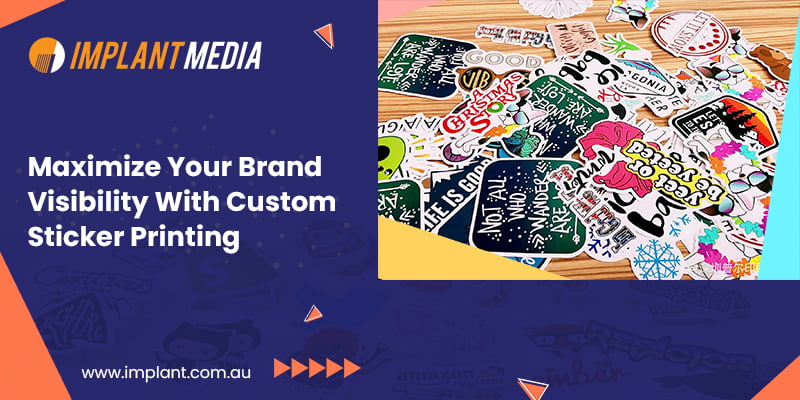 Here are 9 ways to promote your brand with custom sticker printing
Product Enhancement :

Using personalized stickers to seal your product while packaging or adding any kind of personalized touch optimizes your product and makes it stand out from the crowd. Also, you can consider adding a QR code that when the customer scans, it directly takes the customer to either your website or your social media pages.

Partnerships and Collaborations :

Partnering with complementary brands or popular influencers and creating co-branded personalized stickers can boost the visibility of your brand and bring in potential customers as you tap into each other's audiences.

Event Free Giveaways :

You can either offer these branded custom stickers as a freebie with every purchase or just another item as a promotional tool in a goodie bag at expos, seminars, conferences, workshops, or other industry events.

Branded Merchandise :

Personalized design stickers can be used for various purposes such as phone case stickers, water bottle stickers, and laptop stickers. The stickers you create should be colorful, and attention-grabbing and people should voluntarily use them.

Direct Mail Campaigns :

Who doesn't like stickers especially when you add them to your direct campaigns? People always love innovative and fun promotional ideas. So adding custom stickers will help you stop your brand from getting lost in with the crowd.

Guerrilla Marketing :

Always use all your creativity and create a visually appealing custom sticker that pulls the attention of your public and the target audience like a magnet. Your stickers should reflect your brand's identity and values.

Custom Bumper Stickers :

Bumper stickers help you reach a high range of audiences yet it's very affordable. You can give them as a gift or freebie to your customers because it's a creative and fun way to promote your brand for a long time too.

Limited Edition Sticker Series :

Launch a limited edition sticker series and create hype or exclusivity among the customer market in order to boost sales and increase promotion. When launching a limited edition series, you automatically encourage the customers to buy them all.

Join Hands with Local Business :

Without the love and support of the local community, nothing is possible. So partner with a local business and tap into each other's customer circles. So when someone walks by, your custom decal on the window will draw their complete attention and will not only help you reach wider audiences but also help you strengthen the community as well.
Conclusion
In today's fast-paced marketing world, using custom stickers as a promotional tool can give your company a distinct edge, encouraging higher brand awareness, consumer engagement, and loyalty. Businesses can realize the full potential of these bright marketing assets through smart custom sticker printing in Melbourne and the implementation of innovative and engaging sticker campaigns. By using the proposed strategies and harnessing the power of personalized stickers, your business may develop significant relationships with your target audience, resulting in long-term growth and success.
Implant Media is the leading in the industry for sticker printing. We offer our best services at an affordable price for custom sticker printing in Melbourne. Our expert team will guide you throughout the entire journey from planning to creating attention-grabbing custom stickers just for you.
Embrace the limitless possibilities of custom stickers to boost your brand's exposure and engagement.