Digital printing is a computerised method in which chosen electronic file is directly printed on a surface by the machine. Choosing a digital printing service that fits your requirements is highly significant for a company. Then, how to choose a digital printing service in Melbourne, Australia? That is where we come in to select the best digital printing company. Without considering some essential factors, you might miss choosing the right company.
This entire blog is committed to helping you discuss the factors to consider while choosing a digital printing service in Australia! Digital printing service defines that digital files such as PDFs or other format files can be transmitted instantly to the digital printing press to print on canvas, synthetics, fabrics, photo paper, paper, cardstock and other substrates.
Difference between offset printing vs digital printing
Offset printing, or lithography, choose an image and burn it on a plate, usually made from aluminium or metal. This image is then offset or transferred onto a rubber blanket and rolled to a printing surface or a sheet of paper. It's called offset because the ink does not transfer directly onto the paper.
The lithographic process is most useful when large quantities are required and delivers authentic colour reproduction and clean, crisp, professional-looking printing. Digital offset printing would be expensive and inoperable for small printing tasks.
Digital print technology is multiplying, and digital printing output quality is constantly enhancing. Digital printing differs from analogue, traditional printing methods, such as offset printing, because digital printing machines do not require aluminium or metal printing plates. Rather than using aluminium plates to transfer an image, the printing press prints the image directly onto the media substrate.\
Digital printing is appropriate for applications that require quick runs at a minimal price. The most widespread digital printing methods enclose laser or inkjet printers that deposit pigment on various substrates like canvas, photo paper, paper and other materials.
Let's dive into the factors to consider digital printing services for your next project without further delay.
Determine the following factors to choose which method is suited for your project.
Research about the company and printing ranges
Everyone looks for better quality and consistency, which might be the primary reason for choosing a company. Start researching the company for reviews, details, or directly visit or call the company and get the doubts cleared. You can consult and talk to the staff about printing devices used for daily tasks.
Most companies primarily use three types of digital printing:
Web-to-print
Variable data printing
On-demand printing
There are different types of printing done with different printers;
Digital printing
Screen printing
Flexography printing
Embroider printing
Transfer printing
Lithography printing
3D printing
Embossing
LED UV printing
Engraving
Fair cost comparison
Make sure you get a fair price selecting the firm. Cost can be a vital aspect of doing business, and quoting an overpriced job can be heavy on your pocket.
It is fair for the digital printing company in Melbourne or any other company in the world to make an extra dollar on a cheque but not delivering the best quality product would be unfair and stressful. Hence make sure you save up on expenses and stick to your budget.
Customization, colour, and size
Customized print designs with unique styles and pieces are eye-catchy. Digital printing methods can print variable data on each piece, such as an address, names, without a halt in the process.
In digital printing, colours are essential for the look. The colour shades can vary when appearing on the screen and the printed colour on the material, although getting close to preferred colours is doable.
Unlike offset printing which can acclimate simple drawings and posters, digitally printed elements have paper stock and size limitations.
Reliable and proofing
By adopting digital print methods, the samples of the printed piece deliver actual proof lowering overall costs.
It is necessary for you to go with a reliable and trustworthy company with years of experience dedicated to delivering successful projects and landmarks. If you're not confident the company is not reliable, you should look up for following things:
a. Customers reviews over the website.
b. Online reputation of the company.
c. Award received and business history, if any.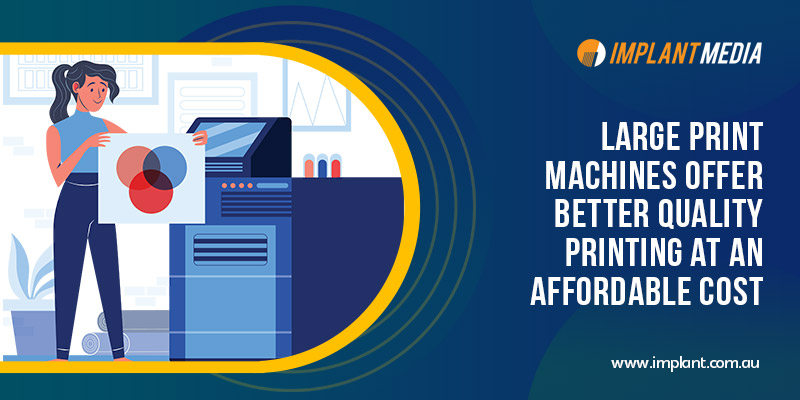 Quality and quantity of products
Whether you are hiring digital printing services offline or online, you need to consider the quality standards. So, ensuring the digital print company delivers suitable products of top-notch quality as per your demands is noteworthy.
Digital printing is not suitable for high-quantity runs. There is no maintenance and setups associated with digital printing quantity factors. Digital printing is easy and reliable with fast results.
Turnaround time
Time is a vital part of our daily life, suppose if your digital printing company promised to deliver on time and, due to their lagging turnarounds, ends up tightening the delivery time? For this reason, you should be updated with daily tasks and requirements, discussing or visiting them on-site if possible.
Digital printing is much faster than offset printing because mechanical steps like making films or plates are eliminated. Being cost-effective is a better option if you print images on short notice.
Keeping professional
The company's approach to every project understands the importance of being responsive and agile in every phase. The possibilities for digital printing in Melbourne are no lesser and one of the main aspects to consider while opting for a digital printing company is their professionalism.
With abundant experience, the digital printing company should create professional and engaging marketing committed to delivering reliable and high-quality service with competence, ethics, etiquette, and accountability.
Happy customer service
Customer service is one of the most influential factors you can't overlook, be aware of the digital printer company's service. If you find any customers vamoosing unhappy with their service, there is no point sticking around.
On the other hand, if a digital printing company in Australia fulfil all the criteria mentioned above, then happy and satisfied customers will assure you about their service.
Make sure that the company reviews all mentioned factors above. These are just a few essential characteristics that help you choose the best digital printing company in Melbourne. At Implant media, we deliver top-notch digital printing services around Melbourne, including free delivery anywhere in Australia! Our friendly digital print specialist team in Melbourne engage with you to understand your requirements and deliver the best digital print services and more.