When retailers and marketers want to convey their company identity, customised garment printing always stands out. There are numerous options for clothing and production techniques. It depends on factors such as material, quantity, number of colours, turnaround time, and budget.
Custom-made printed apparel will serve as a fantastic billboard and spread the word about your company if they are worn in crowded areas like stadiums, public gatherings, or college campuses. The best printing technique must be chosen before making gorgeous, personalised clothing. There are a variety of printing techniques that are effective on various materials. The printing professionals tend to favour a few of them above others. They consist of dye sublimation, direct to garments, or DTG, and screen printing. Transfer printing, cad cut vinyl pressing, and embroidery are examples of traditional methods of producing clothing.
To create unique clothing, several printing professionals employ different methods. Let's examine these techniques and their benefits in more detail.
The Most Popular Garment Printing Techniques
Customised clothing is in high demand, and there are many ways to bring your designs to life. With so many printing techniques available, it can be difficult to choose the right one. Here are the most widely used garment printing techniques.
Screen Printing Method
A woven screen (also known as a mesh stencil) is used in the printing process of screen printing to push ink onto fabric. The ink lays on top of the object rather than soaking into the fabric.
For each component of your design, a unique screen needs to be made while screen printing. Following that, the design colours and components are added to the garment one layer at a time. Screen printing is typically used to print products in bulk due to the lengthy setup period.
Solid designs without fine details print better on screens. Consider simple typography, geometric patterns, icons, and forms. Screen printing is also frequently employed for designs with a limited number of colours since each colour is applied separately.
Some of the advantages of screen printing are, it's extremely economical for bulk orders, great designs can be produced, screens can be recycled, the process saves time, it's compatible with a variety of fabric types and the designs are robust and long-lasting.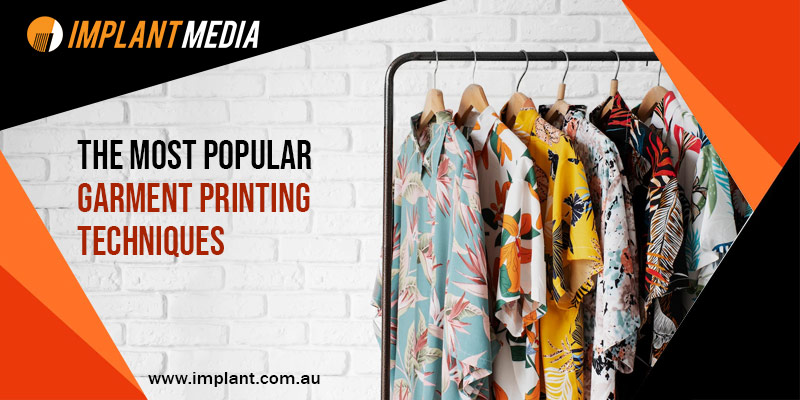 Woodblock Printing
Prior to the 20th century, the printing technique of woodblock printing was particularly popular. For printing text, images, or patterns, this method was widely employed throughout East Asia, particularly in Japan and China, up to the 19th century. Despite having its roots in China, woodblock printing gained popularity in Japan.
It is necessary to carve a different wooden block for each colour used in the pattern. While, the more intricate carving is saved for the end, the bigger, heavier motifs are carved first. A technique known as "coppering," in which strips of brass or copper are hammered into the blocks to portray minute design details, is also employed occasionally. The block is coloured and pressed firmly on the fabric. Then, this procedure is repeated until the entire length of the fabric has been printed.
One of the main reasons this technique is employed is because of the unique effect it leaves on the garments.
Cylinder Printing
Instead of hand-carved blocks, this technique makes use of etched copper cylinders or rollers. The fabric is printed with a repeat of the motif while the rollers spin. Due to the extremely high speed allowed, roller printing has typically been favoured for lengthy production runs. Since up to twelve different colours can be printed at once, it is a flexible approach. A number of copper facing rollers with the design etched on them make up the basic roller printing apparatus.
Each colour that is being printed has its own printing roller and rotates over the material. A blanket and backing cloth revolve over the pressure roller underneath the fabric and offer the fabric being printed with a flexible support.
Heat Press Printing
Using transfer printing techniques, a design is moved from one medium to another. The most popular type is heat press printing, where the pattern is first produced using standard printing equipment on a specific paper. The paper is then heated near the fabric, causing the colours to vaporise and transfer to the fabric.
Digital Printing
This is commonly known as digital garment printing, direct-to-garment printing, or DTG printing. Using specialised or modified inkjet technology, reactive ink is printed onto textiles and clothing, penetrating the fabric as opposed to screen printing, which adheres to the surface of the fabric.
Dye Sublimation Printing
For printing on t-shirts and materials with light colours, dye sublimation is the best option. On polyester t-shirts, this technique typically yields excellent results. A liquid dye is used for this technique. When it gets into contact with the poly fabric, it begins to dry. The sublimation process then requires that you apply a specific amount of pressure and heat. In general, this approach is excellent for creating massive designs.
All you need to do is choose a design!
With so many different garment printing techniques to choose from, you can customise everything from t-shirts and polos to towels and socks. If you've already decided what you want to get printed, reach out to our experts here at Implant Media to get you some of the best pricing and quickest turnaround time!
We are the top preferred company when it comes to garment printing in Australia. We ensure personable service and quality products combined with cost-effective solutions. Ready to get started?