Download cards with full hosting and unique codes. Share your data easily, simply and directly with anyone you want.
Download cards are printed cards that have a unique code on them. Entering the unique code at downloadcards.com.au allows you to download files from any web browser. The files are not limited to audio. We can host video files, pdfs, jpegs, or any other data files you have.
The cards are super easy to use:
got to www.downloadcards.com.au
enter the unique code that's printed on the card
download your files!
Stocks and finishes
We offer download cards in a variety of stocks and finishes, and can even cut them to custom sizes. Our standard cards are 90 x 55mm printed full colour on 1 side. Or you can choose from any of our digital business card options. Check out download card options and prices here.
Download codes are a unique 9 digit sequence of characters that when entered into a website will give you access to files to download.  They can be printed on Download cards or they can be printed as Direct Codes, directly onto marketing material or, in the case for many of our customers, directly onto CD and DVD packaging.  The codes used for Download cards or Direct Codes are exactly the same, it's just your decision on how you want to use them that will tell us how you want them supplied.
As each code is unique we only offer Direct codes on packaging and marketing material that's printed digitally.  Direct Codes can also be supplied as PDF or CSV files to be used however you like.
Start by making an order, then supply the master files and artwork.
1. Order
You can order standard download cards when placing orders for CDs and DVD under the extras option in the  Duplication/Replication quote calculator .
Or if you want a download card with a non-standard finish you can order them in our Business Card / Download Card quote calculator .

2. Master Files
Supply all the files you wanted Zipped up into one package.  Most people will use Mp3 to compliment audio projects or HD AVI's or Mpegs with Video projects.
3. Artwork
Your artwork needs to be set up to our specs and supplied as print ready pdfs files. We recommend that you have your artwork set up by a professional Graphic Designer with experience in print design.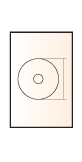 We're also happy to create designs for you. Find out more about our in-house design team.
Typically, printing digital cards takes 1-3 working days, depending on which options you choose. Delivery to most major metro cities in Australia is 1-3 working days. We're happy to accommodate urgent requests where possible, just contact one of our sales staff!

Have a question? Need samples? Want us to organise a quote for you? Contact us below.