We understand that it isn't always possible to supply us a physical master for your duplication or replication runs. While a physical master or DDP is preferred, you may only have WAV files or straight data. We can provide a service to create the master disc for you. For more complicated requests we have a 3rd party supplier that you can deal with directly.
Blu-ray masters must be supplied as a physical disc or on a hard drive. Other conditions apply so please contact us directly for Blu Ray enquires.
How much info can I fit on my master?
CD – 700 MB (up to 80 minutes audio)
DVD – Single Layer – 4.7 GB
DVD – Dual Layer 8.5–8.7 GB
DVD Double sided / Single Layer – 9.4 GB
DVD – Double sided, Dual Layer 17.08 GB
Blu-ray – Single Layer – 25GB
Blu-ray – Dual Layer – 50GB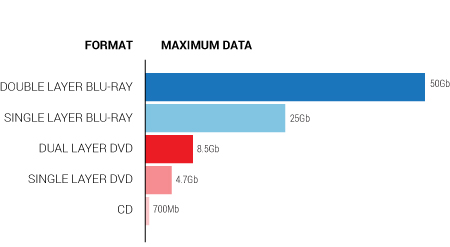 To create a master audio CD, what format should my files be in?
44,100 Hz, 16 bit, stereo WAV files.
To make a master audio CD we need WAV files supplied at 44,100 Hz, 16 bit and stereo. WAV files at a bit rate higher than 44.1 KHz & 16 bit may not be compatible with the program that we use to create the master disc.
Can you put CD-TEXT / ISRC codes on my CD Master?
Yes we can, extra fees will apply.
We can add both CD-TEXT and ISRC codes to master. This information must be supplied in a separate word docs together with the audio.
For CD text we need to know "Track Name", "Artist Name" and then the "Album Name" and "Artist Name" (for the Album).
ISRC codes need to be supplied as a 12 digit identifier such as CCXXXYYNNNNN. More information on ISRC codes can be found here.
We can create basic CD and DVD Roms for Clients that just need files to be copied onto discs. We burn all discs as CD-ROM (UDF/ISO) and DVD-ROM (UDF/ISO). These are the most common file structures for data CDs and DVDs. More info can be found here for UDF and here for ISO.
No authoring is needed when it comes to content for USB, whatever you have is ready to go! The best way to supply your master is on a USB of a comparable size to what you have order or all compiled into one ZIP file, folders and all.  Also please let us know what you would like your drive to be called, upto a maximum of 11 characters including spaces.  The best thing to do is to use the name as the title of your order and also write it in the comments, Drive name – "XXXXXXXXXXXX".
Its important to remember that USB drives need some storage for the firmware to run the drive.  This means that drives hold slightly less data than their name describes.
2GB USB –  1905MB (1.86GB) of storage – 143MB is used by firmware.
4GB USB – 3809MB (3.72GB) of storage – 287MB is used by firmware.
8GB USB – 7619MB (7.44GB) of storage – 573MB is used by firmware.
16GB USB – 15237MB (14.88GB) of storage – 1147MB is used by firmware.
16GB USB – 15237MB (14.88GB) of storage – 1147MB is used by firmware.
32GB USB – 30474MB (29.76GB) of storage – 2294MB is used by firmware.
64GB USB – 60948MB (59.52GB) of storage – 4588MB is used by firmware.
If you need services that are outside of the basic master creation that we offer in house, we can point you in the right direction. We work closely with suppliers that can help in these areas. Please contact us directly if one of the services below is what you require.
Flash CD/DVD ROM/APP Authoring
– Interactive menu creation
– Launch multiple file formats on both PC and Mac
– Hybrid disc formatting for both PC and Mac
– Packaging content for mobile or tablet delivery
DVD Authoring
– Capture/Encode from almost any source
– PAL/NTSC conversion
– Menu creation
– Chapter placement
– Subtitling
– DDP creation, conversion and delivery
Blu Ray Authoring
– Capture/Encode from almost any source
– Static and pop up menu creation
– Chapter placement
– Subtitling
– BDCMF creation, conversion and delivery