The best pressed vinyl in town. If you've heard of MPO France, you'll know about their reputation for pressing the world's best sounding and most collectible vinyl records. Implant is your exclusive Australian dealer to this legendary vinyl producer, and proud of it. Talk to us about vinyl pressing in a vast variety of colours, stocks and finishes at affordable prices.
Although not essential, we recommend that you choose to request a test pressing. If a test pressing is selected on your order, you'll receive three records for you and your band mates to listen to and ensure the record sounds exactly as you imagined. Without a test press, you may save some time, but by default, you'll be approving the one and only pressing.
What we need from you

Audio Master
We recommend that you have your audio mastered specifically for vinyl. Audio masters can be provided in the following formats:
• wav or aif files at 16 bit or 24bit, 48 KHz
• DDP file set
Please include a detailed cue sheet that specifies:
• track numbers and sides
• track start and end times
• gaps between the tracks
Length and playing times
We recommend the following maximum playing times:
12 inches:
Up to 14 minutes at 45 rpm and up to 24 minutes at 33 rpm.
For DJ applications up to 9 minutes at 45 rpm and up to 15 minutes at 33 rpm.
10 inches:
Up to 8 minutes at 45 rpm and up to 14 minutes at 33 rpm.
For DJ applications up to 6 minutes at 45 rpm and up to 9 minutes at 33 rpm.
7 inches:
Up to 4½ minutes at 45 rpm and up to 6 minutes at 33 rpm.
These specifications are general guidelines. Longer playing times require a reduction of the cutting level, and may require an alteration of the characteristics of the audio material.
Artwork
Artwork needs to be set up to our specs and supplied as print ready pdfs files.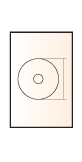 How long does it take?
Please allow 12 to 15 weeks turnaround time.
We're happy to accommodate urgent requests where possible, just contact one of our sales staff!