Large disc quantities, pressed here in Australia.
If this is your first time, no problem. We're here to guide you through each stage of the process. If you already know what you want, you'll find our prices to be some of the most competitive in Australia.
Ask our competition where they get their discs made and you might be surprised how many take their work overseas. When you use Implant, you have the peace of mind knowing that your discs are manufactured in Australia. This has all the usual flow-on benefits like local jobs and better working conditions, but for you, it also means faster turnarounds and a higher quality product. Whether you need CDs, DVDs, Blu-Rays, Data Discs, Videos or Audio CDs replicated and printed, we'll find a solution at the best price and fastest turnaround possible.
What is replication?
Replication is the process of pressing music or data onto a moulded disc. This is the best
option if you need 500 or more CDs or DVDs, or 1000+ Blu-rays. For runs of less than 500,
head over to our duplication process page.
Why replication?
Replicated discs are more durable and cost effective (cheaper per unit) than duplicated discs.
Most discs that are sold commercially are produced using replication.
The pressing process
The replication process involves making a 'stamper' from your master source which is injection moulded with plastic, then screen or offset printed with your artwork. Replicated audio discs are produced to the Red Book standard. Replicated data discs (CD-Roms) are produced to the Yellow Book standard.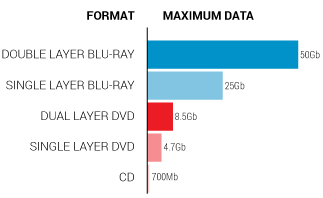 Printing
Replicated discs can be printed in two ways: screen printing or offset printing.
Screen printing is used for flat graphics that are set up as Pantone colours. Each pantone colour is printed onto the white or silver disc surface one at a time. Printing solid graphics in pantone colours gives a much flatter, smoother finish than printing the same graphics using the offset printing process.
Examples of artwork that is suitable for screen printing:


Offset printing is used for artwork that is made up of images or gradients. Offset printing involves printing primary colours (cyan, magenta, yellow and black or 'CMYK') onto a silver or white base.
Examples of artwork that is suitable for offset printing:


See our artwork specifications for more details on setting up your artwork for the best results.
What we need from you:
Start by making an order, then supply the master files and artwork.
1. Order
To get quotes and place orders got to the Duplication/Replication quote calculator .

2. Master
For all disc formats, we recommend that you supply a professionally-produced master disc. If
you can only supply files, we're happy to create a master for you, for a small additional fee.
See below for specific requirements.
3. Artwork
Artwork needs to be set up to our specs and supplied as print ready pdfs files. We recommend that you have your artwork created by a professional Graphic Designer who is experienced in print design.
We're also happy to create designs for you. Find out more about our in-house design team.
If you're ready to get pricing for replication, please click here.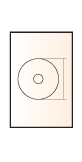 CD MASTER
We prefer the following format:
• an error checked CD master
• DDP file set
If you can only supply .wav files there will be a master creation fee of $25.
We can only make CD masters from the following file formats:
Audio
• wav files at 16 bit 44.1 KHz
Data
• any data files up to the size limit of a CD-R
• iso file
DVD MASTER
We prefer the following format:
• an error checked DVD-R master
Depending on your content we may be able to create your DVD master. A $25 fee will apply. We can only make Data DVD masters from the following file formats:
Data:
• any data files up to the size limit of a DVD-R
• iso file
For Video: WE DO NOT encode to DVD video from movie files. Contact us and we can recommend a company to do the encoding.
BLU-RAY MASTER
Blu-ray content must be provided on a portable hard drive. Please contact us for further info.
How long does it take?
Replicating takes 7-15 working days, depending on packaging.
Replicated orders with plastic packaging or digital cardboard packaging take 7-10 working days to complete.
Replicated orders with offset printed cardboard packaging generally take 10-15 working days.
Delivery to most major metro cities in Australia is 1-3 working days.
We're happy to accommodate urgent requests where possible, just contact one of our sales staff.