All the brands have one thing in common, attracting more customers and expanding their market. To do that, they have to come up with ideas and strategies to stand out from the crowd and make a long-lasting impression. One of the best marketing strategies is using promotional USBs as your game changer.
USB (Universal Serial Bus) drives are also called thumb drives, pen drives, memory sticks, or flash drives. It's a plug-in-and-play portable storage device. They can be equipped with computers and laptops. USB not only transfers data, it can also provide power to connected devices. Different levels of power can be supplied through USB ports, ranging from a few watts for tiny peripherals to enough to charge laptops and even power-hungry equipment like monitors.
Want to know more about promotional USBs and how it's going to improve your brand? Implant Media has got you, We'll unlock all the creative ways to execute this technique in your brand.
The True Potential of Promotional USBs
have a universal appeal to customers. The same applications that CDs and floppies historically served are now often performed using USB flash devices. It is useful for backups, duplications, and other tasks. These USB flash drives are small, practical, and have a huge capacity for file backup. They may also be used as promotional giveaway gifts to advertise the business by emphasizing the practical aspects of these convenient flash drives. Additionally, an excellent way to make an impact on a potential customer.
Here are some reasons why you should consider using USBs as promotional products:
4 Reasons To Use Promotional USB Drives!
Cost- effective
Promotional USBs are budget friendly because of its simple design choices, its ability to customize them according to the budget and branding requirements. Their affordable nature makes them a perfect marketing tool.
Versatile
Promotional USBs are budget friendly because of its simple design choices, its ability to customize them according to The size of the pen drive may be small but it has the capacity to store large files, presentations, movies and even 1000 songs. The storage capacity is incredible.
Tangible Brand Representation
Promo USB drives are tangible products that customers can touch, feel, and use, in contrast to digital advertisements that are immediately ignored. They become an actual representation of your business when they are personalized with your brand's logo and messages.
Longer exposure
When someone carries or uses your brand's USB, they automatically become a walking advertisement for your brand. People often carry it with their keychain or bags, which gives constant visibility.
How to use Printed USBs to promote your brand?
A basic USB drive is one innovative and useful gadget that may aid in brand promotion. These adaptable tools provide a distinctive means of connecting with your audience and making a lasting impact. In this article, we'll look at many efficient and effective USB marketing strategies.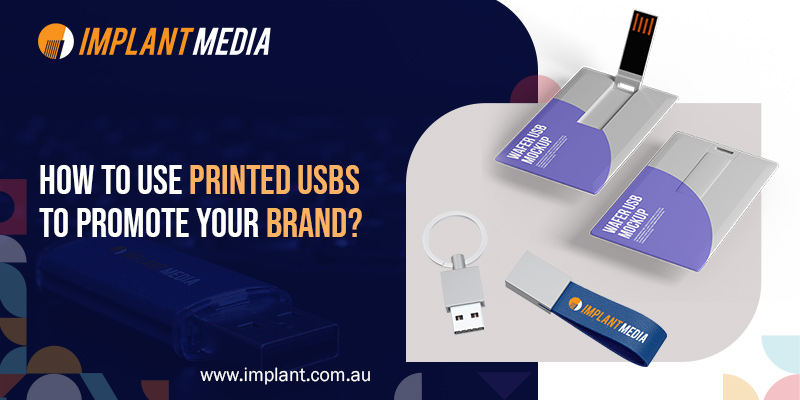 Freebies
Who isn't fond of free stuff? This is a great technique to pique the curiosity of both present and future clients in your good or service. Who wouldn't want a free object that can hold a ton of data, as we previously stated? You may save a variety of marketing products on your USB flash drive, including company details, examples of products, discounts, and more! This is the ideal strategy to pique the attention of both present and future clients with what you have to offer.
Contests and Giveaways
This never goes out of trend! Run contests utilizing promotional USB drives as prizes in competitions or giveaways to generate enthusiasm around your brand. This may increase your audience's participation and level of engagement.
Business cards
Yes it is possible to get promotional flash drives with your company's logo and distinctive identity inscribed on the front in business card-style format. This gives you more space to work with than a typical 1- to 2-inch-long USB flash drive, enabling you to use a larger logo and include additional text or phrases. Additionally, flash drive business cards come in a variety of hues and sizes, making it possible for your company's goods to stand out among rivals.
Print Scan codes
These printed USBs are always very professional and smart because incorporating QR codes on your promotional USB drives, you can connect the analog and digital worlds. The recipients of these codes may be sent to specific landing pages with special deals on your website, social media accounts, or other platforms.
Trade and Educational Workshops
Distribute promotional USB drives with the presentation materials to attendees of educational workshops or webinars that your company does. In addition to supporting your business, this gives participants access to useful information.
Where Can I Get These USB Flash Drives?
A distinctive combination of tangibility, adaptability, and affordability is provided by promotional USB drives for your marketing approach. You may improve brand awareness, engage your audience, and promote company growth by creating great material, personalizing designs, and strategically sharing these drives.
Implant Media is offering the best services for your promotional activity in the premium quality. Our team of experts will be working 24/7 and we'll keep you posted throughout the entire process.
We have been serving many customers and ensuring they get all the benefits of partnering with us. We offer solutions and services for all your promotional questions and much more at an affordable cost. Elevate your brand promotion with us!
Why be ordinary when you can be extraordinary with Implant Media!