In the modern digital era, promoting a product or advertising service has become digital. Custom stickers attract eyeballs, and it is a tactile way to connect with customers because most adults have positive memories of using stickers in childhood.
Today, we share more reasons to use custom vinyl stickers in your promotional efforts. If you are scrutinizing for a creative way to boost your brand visibility, we recommend you to use custom-made stickers in upcoming promotions, expos, or giveaways.
E-commerce marketers have numerous options to market their brands & engage consumers. Hence, the competition for driving brand visibility among customers & creating their buying choices is enormous.
Innovative branding strategies like custom sticker printing & marketing can help enterprises differentiate from competitors and enhance their brand visibility in ruthless competition.
Here's How to Increase the Brand Visibility To Grab Audience Attention & Generate Conversions
Custom Sticker Printing can Make a Statement
Do not limit yourself to custom stickers that directly promote your brand. Instead, consider providing aesthetically cute personalized stickers, then add your logo around the periphery.
For instance, if you need to promote your car service shop, you could send your clients home with custom-made stickers with details like "It's time to call your car mechanic!".
The implant can produce high-quality customized stickers in Australia and help sport the brand's aesthetic by including freebies with purchases if you are an independent clothing company. Effectively, any business can use custom stickers to stand out from competitors.
Custom Made Stickers Advertise a Personal Endorsement
Spectators are most likely to accept brand suggestions from those they know. For example, will you go to a restaurant recommended by a close friend or analyze people's reviews on the Google page? You will go to the restaurant recommended by a friend, right ?.
Printing custom stickers, especially those used on laptops, phone cases, water bottles, guitars, notebooks, and windshields, are explicit validation for your enterprise.
People never associate stickers with corporations they hate; thus, they give your brand two thumbs up when people communicate your custom sticker.
Integrate Soft Selling Content
Traditional marketing approaches have depended on hard-selling phrases like "Don't Miss Out," "Offer Closes Soon," & "Buy Now" to generate more leads. Yet, people are in the mindset to block sales & marketing content, which makes it challenging for brands to influence their audience.
Soft selling content concentrates on the personalities & ideas that a brand conveys to its target audience. So instead of emphasizing your brand log, use quotes & phrases with creative memes which will speak for your brand effectively and appeal to your target customers.
Likewise, a life insurance company can use brand fonts with eye-catching details & create content such as "Choose Life" instead of hard-selling content 'Get Insurance Now.'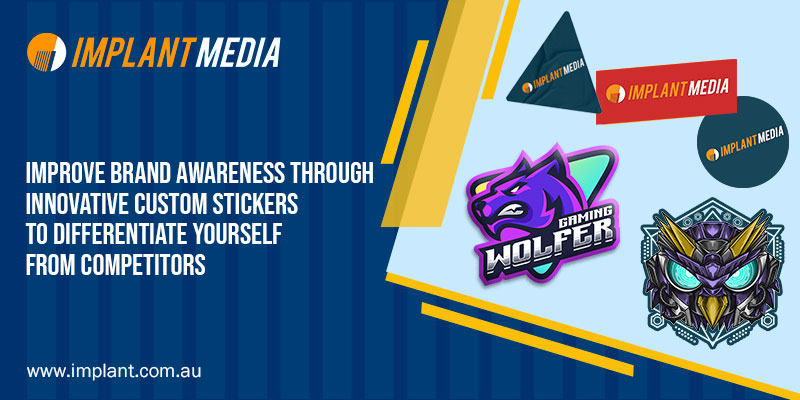 Attention to Custom Sticker Graphics
While prospective customers choose to display custom vinyl stickers, they will pick a visually pleasing one. So the sticker design & graphics which resonate with the target audience play a vital role in attracting your customers to display them.
For example, if you have a cosmetic shop, your target audience will be modern women & young girls. In such a case, eye-catching die-cut stickers with makeup memes or graphics will significantly impact. And they will share your stickers with family & friends, boosting your brand visibility.
Print Stickers to Enhance Online Campaigns
Custom sticker printing can boost the effectiveness of online campaigns. For example, if you want to increase online marketing awareness or enhance conversion rates, include QR scans on your custom-made stickers.
Implant is a custom sticker maker in Australia that encourages customers to follow the brand & recommend it to others. Also helps you enhance the number of impressions on your social media accounts by adding Instagram, Facebook & Twitter profiles.
Think Innovative Ideas
Thinking & applying innovative ideas to make your brand stand out from your competitors. Apply your creative & innovative way and use personalized stickers to create an interest in your enterprise.
For example, if you plan to launch your eCommerce site and have a solid campaign phrase, incorporate it into your custom vinyl sticker to create hype around your brand during the pre-launch stage.
Once your custom vinyl stickers are public, it's not an advertisement; it's a personal endorsement that the audience trusts. If you need to boost any business customer conversion & visibility, include custom vinyl stickers as part of your business strategy.
Implant Media is a custom sticker maker suitable for promoting your business. Get customized sticker printing in Australia at affordable rates with fast lead time. We can create any shapes, sizes & prints on any stock materials, making them perfect for marketing requirements.
Talk to our friendly team about our offerings & find out which one will suit your upcoming giveaways or promotion.