We have hundreds of styles in every colour imaginable, some available in just 48 hours. Team this with our exclusive specialty packaging and create products that can\'t be found anywhere else. Call us on 1300 79 78 78 to find out more, or use our online quote tool to get an instant price.
We love to print and we do it fast.
24-48 hour Turnaround.                         •    Minimum 10 units (Selected Range).
Free Delivery.                                             •    Data loading Service.
Pantone Matching.                                    •   Australian owned Supplier.
Instant online Pricing.                              •   Free Proofing.
Printed USBs, it\'s what we do, and that means we can do things a little a bit differently from everyone else.  We have a selected range of promotional USBs that we print right here in Australia, so we can offer faster turnarounds going around!   As well as the extensive range of USBs that we carry we also produce printed cardboard wallets that work perfectly with them so that they can really stand out from the crowd. These covers are an Implant Media exclusive so you know the products you create with us won\'t be available anywhere else.  Need your USB tomorrow? No problem, we\'re here to help (not available on all models). Give us a buzz, we believe that we have some of the best pricing going around, and have made it all easily available right here. You can use this to quote and plan your next project with ease or if you would like a more info don\'t hesitate to give us a call on 1300 79 78 78.
100s of styles, unlimited options.

48 Hour Range
Tight deadline? No problem. We have selected a few popular styles that we carry in store that can be printed and ready for you in no time.  We are constantly adding new styles and colours to this range to to make sure that we have the right solution for your next urgent project.
Standard Range
With 100s of styles available for order we have tried to make it as easy as possible for you to find the right one for your next project.  Our full range can be found in our instant quote tool right
here
. We have broken the range into different sections. Firstly into most popular and then into sub categories relating to their style, such as "card", "plastic, "wood" and so on. If the style you want is not available, please let us know! In most cases we will be able to source it for you.

Custom Design
Custom USBs
can be created from 3D design files or even from a sketch.  These need to be quoted as per the details of the concept so if you have an idea for a shape, even with moving parts, please don\'t hesitate to
contact us
so that we can give you an accurate quote for what you are after.
Custom Printed USB Cases
We have range of cases that will give your USBs the professional edge. Choose from our exclusive fully printed cardboard digicases or our plastic or tin boxes that can be printed in full colour.
Digicases
are available in both 4 and 6 panel configurations, printed in full colour and can be finished in gloss and matt laminates.  the foam trays perfectly fit the credit card USBs for one of the best looking packages going around.  Even more amazingly these cases are avaliable from just 1o units. To get an instant price, follow this link and select the card USB and follow through the options  
here
.
Tins and plastic boxes are available on all orders over 100, great for gifts or as an easy way to display your USB for your customers. All of the cases can be printed for extra customization.
Wooden boxes are perfect to compliment your wooden USBs. They can be printed or, for runs over 100, we can engrave them.
Depending on the style of drive that is chosen we have a range of print options to suite.
Full Colour UV
If you have full colour graphics or even a photo, this is the perfect method to use. Fantastic results can be achieved allowing for crisp permanent markings on almost any surface.
Screen Printing
The most effective way to print onto drives with flat colours and line art.  This method allows you to pick up to 3 spot colours and have them transferred onto the drive.  This method is best for text and logos. Artwork should be supplied as vectors files for best results.
Laser Engraving
Great for both text and line art, a monotone image can be engraved onto any of the drives from our metal or wood range and some of the plastic drives.
What we need from you:
1. Order 2. Artwork 3. Content
1. Order
To get quotes and place orders got to the USB Production Calulator.
2. Artwork
Artwork needs to be set up to our specs and supplied as print ready pdfs files. We recommend that you have your artwork set up by a professional graphic designer who is experienced in designing for print.  If all you need is your logo to be printed onto the USB, send it through, if it in a suitable format we will be able to set it up for free.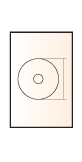 If you would like to find out more about our inhouse design service, please click  here. If you would like to get pricing for USBs, please click  here.
3. Content
The best thing about USBs is that you can pretty much put anything you want on them!  No need to Author video in a specific format and no need to compress files unless you want to.  The best way to supply your content is either on a comparable sized USB to what you are ordering, or you can ZIP up all you content and it mail/upload it through to us. If you do need some help with content we can help, some info can be found on our Creating Masters page here, or call us on 1300 79 78 78 to speak to one of our specialists.

How long does it take?
48 Hour Range like the name of the range the standard turnaround for these drives is 48 hours from when we receive sign off on Artwork and data.  Need it faster than that? Let us know, we\'re here to help! Standard Range 7-10 working days, depending on option. Delivery to most major metro cities in Australia is 1-3 working days. We're happy to accommodate urgent requests where possible, just contact one of our sales staff!

.
Have a question? Need samples? Want us to organise a quote for you? Contact us below.