Do you still think people are using business cards in 2022? The answer is yes. Business card printing plays a vital role in impacting your business with first impressions, networking, and boosting traffic.
There are other ways of exchanging information with digital business cards. Still, the old creative method of making your own business cards and handing them out physically to a potential customer has its own vibe.
For instance, let's think about the last time you met with a business partner or client. Was it more effortless to take the time to dial phone numbers and emails into your smartphones? or swap business cards?
When you make business cards with your name and other details, it establishes an individual connection when you meet your clients or business persons for the first time. It makes them feel authentic, more trustable, and memorable if done correctly.
We are here to help you put together some of the eye-catching, distinctive, professional business card tips to inspire you to make your own business cards for a lasting impression.
Best Tips You Need to Follow While Making Business Cards
The Readability
Small texts often make readers skip and lose interest in reading. So if you got much information on your business card, do not shrink the size. It leads to illegible smudge during business card printing. So, make your own business cards that people can read without a hassle.
Implant media produces top-notch business cards in Melbourne and follows standard procedures without going smaller than 8pt size. Keep the font simple and professional, and do not use any glittery or comic stans that are impossible to interpret.
The Information
The most important thing you need to consider while planning for business card printing is the information you want to communicate. Make sure your name, company logo, and job title are displayed without any grammatical error, and think about which contact you need to include without making the card jumbled.
Implant media, a business card printing in Australia, asks you to send the necessary details for your business card printing and give suggestions on details to make your business card look professional. Many companies no longer include an address on their business card anymore, and if you are short on space, you need to remove it from your design.
The Thickness of Paper
Always use high-quality paper for your business card printing. The higher thickness of the paper has a higher price making it a more professional look and feel. The cheap paper will make your card look low-grade, tacky, relatively thin, and tear apart.
Professional business card designers like Implant media make business cards with first-in-class stock material, weighing 350gsm more or less depending on your requirements, with smooth finishes. Everyone likes an excellent stock paper that is top-notch in look and feels.
The Bright Colors
Vivid colors attract eyeballs. Suppose your business card needs to stand out and look distinctive. In that case, you need to work on innovative design and creative business strategy to appear exciting, fresh, and original for people to remember.
A professional business card designer like Implant media will make the business card look simple yet stylish. Get more leads for your business with an attractive design with a striking colorful card.
The Graphics
When someone gives a business card to you, do you look on one side or both sides? Both sides, so one side will be all the necessary information, and the other side is the most vital part, where the visual graphics come into the picture.
Use the space with creative graphical representation with a logo, service, or something related to your business, do not leave it blank. The Implant media prints attractive business cards in Melbourne that stand out from competitors with eye-catching visual graphical content. Contact us today!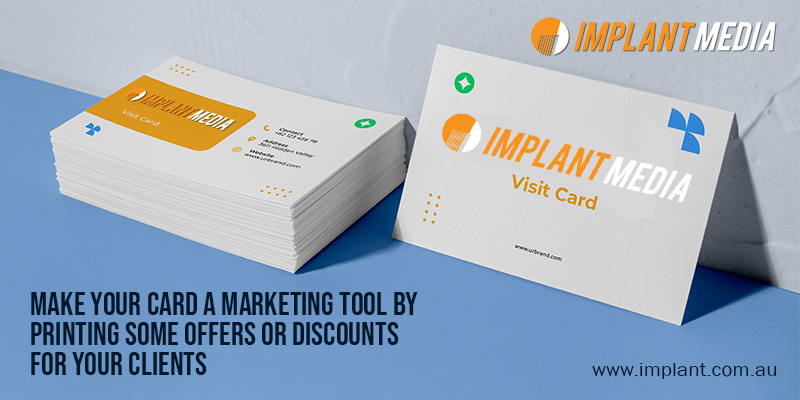 The QR Code
As modern technology evolves, the QR code is the new way to save space. Including a QR code scanner on your business card furnishes an ideal way of letting you know about your business without making it look sloppy.
There are many free QR code generators on the internet, and it's an easy way to create a link between your online and printed content. Get customers automatically directed to your website by scanning the QR code, which leads to increased web traffic.
The Embossing
If you think the old methods of business card printing with traditional black and white look dull, then try the 3D effect or embossing the words with different colors, which have more style and elegance to a professional business card.
According to popular research, engaging more than one effect in a single product can improve the recall of an object in people's minds, and they would be likely to remember your business. So embossing helps your business card look more tactile.
The Bleeds and Borders
While business card printing, do not use borders in your card design. The business card designer will leave a margin of 3mm bleed with the same color as the background to avoid printing mishaps. Due to this particular reason, a perfect symmetrical border on your screen may fall out lopsided by subtle movements of a printing machine.
If you have a border on your business card, it may cut around the edges. Also, printing companies use a "safe area" in the center of the card to keep all the vital information in the center to avoid trimming off.
It's time to create a perfect business card. Implant Media is a premium business card printing in Melbourne with high-quality stock finishes and quick turnaround. Talk to our friendly designers to make your card look precisely how you want it.