USB Flash drives are one of the best marketing tools this modern world has ever seen. They have become an important part of business operations. This is largely due to their portability, ease of use, and storage capacity, which makes them perfect for storing all kinds of data in them.
They're the best way to transport documents, photos, and other files from one device to another. While flash drives were once a novelty, they have become quite common, and you can buy them in any size, shape, and color. They are turning out to be increasingly popular devices for data storage and retrieval.
Custom USB drives are a great way to promote your business, and not just in the digital space. With so many businesses now relying on digital files, it is no wonder USB drives are such a popular way of distribution. From the small business owner who needs to quickly distribute a promotional video to the corporate executive who needs to distribute confidential information, a custom USB drive can be a helpful tool.
Let us check out a few innovative ways you can customize your USB flash drives to help you reach different audiences, create more engaging campaigns, and reach your goals.
Why should you customize your USB flash drives?
Although custom USBs offer benefits and convenience, they can also be a very boring product to use as well as to look at. To make your USB flash drives memorable and effective marketing tools, you need to customize them so that they stand out from the rest of the pack.
Here are some reasons that explain why custom USB flash drives are the way to go: –
Flexibility
Custom USB drives are just exactly that, completely personalized. You can choose the size, the mold, the design, and even the material. If you want to make an eye catchy flash drive, the flexibility you have has no bounds. From logo-based to custom 3D shapes, your drive can capture the true essence of your business.
Brand Recall
Your USB flash drives represent your business, with company colors, logo integration, and other design options. This allows you to create something that helps people remember and distinguish your business. Every time a person uses the drive, they are likely to think of the business.
Return on Investment
Since it is a product that people will be able to use for years to come, your investment will bring returns for a longer period. This long-term use will help in increased brand recognition and will help the business have top-of-the-mind awareness.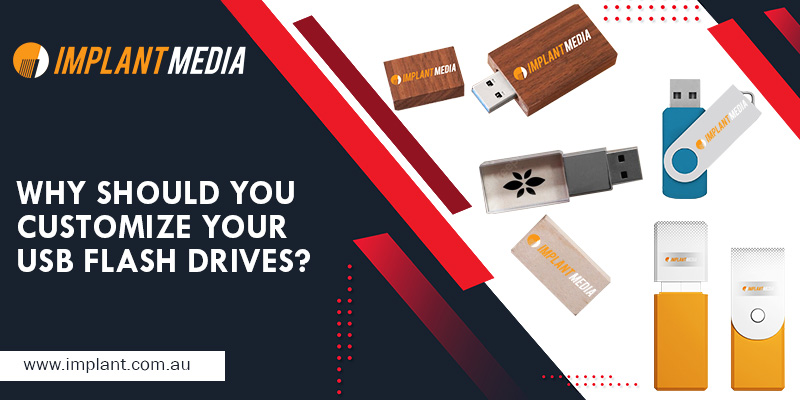 How to customize USB flash drives
To achieve your required goals and meet your personal needs with your custom USB and business card flash drives, you first need to know the different ways to customize them. Here are a few things to keep in mind while getting started: –
How much storage do you need
Is this a drive with generic business information that you're handing out to everyone, or is it for team members for a specific project? From drives that can store 4 GB of data to drives that store 64 GB, it's vital to choose a storage capacity that matches the needs of your business.
What colors are you looking at
While it's usually a good idea to stick with company colors and shades that match your logo, sometimes businesses also use brighter colors to make their drives stand out. Using black and white ink does help with staying inside your budget, especially if you're opting for a drive with a larger storage capacity. Other color options include chrome, gold, monotone, dual tone, etc. It's crucial to choose wisely since you're usually charged per color when it comes to printing.
Dye sublimation, on the other hand, is an alternate solution, because even though it costs more upfront, it gives you unlimited color options.
What do you want it to say
From logos and text to images and mascots, there's a wide variety of things you can print on your flash drives to make them stand out. Maybe for internal drives, a team mascot and a spirited message help build goodwill and improve morale, but for drives that you plan to pass around, having the logo is key, as it allows the drive to build brand recognition.
Of course, it's vital to remember that flash drives tend to be small, and it won't make much sense to have too many printed messages on them.
Preloaded information
Promotional USB drives are usually customized to be distributed at trade shows and conferences and having them preloaded with the required brand information saves a ton of time for the business. When getting your USB flash drives made, it's beneficial to let the production company know exactly what files you need to be included.
Other things to consider are whether you want these drives to include any encryption, have any specific shapes, or be of any particular format.
Enhance your brand awareness with custom USBs
Custom USB printing is an excellent way to promote your business, and there's a plethora of personalization you can opt for to make them more adequate for the brand. These options also allow you to stay on budget and design a product that feels tailor-made.
At Implant Media, we strive to create products and customer experiences that help you meet your desired business goals. There are hundreds of styles to choose from, combined with incredible prices, and exclusive packaging. We provide the best custom printed USBs in Australia, with free delivery and printing in just 48 hours on selected models.
It's time to get your hands on impeccably designed USB flash drives from Implant Media that help you not just store your data but elevate your business too.