In a business rivalry world, using various promotional tools and staying ahead has always been the goal for everyone. But did you know you can use customized bumper stickers for the promotion of your business? Well, don't worry; that's why you have Implant Media to tell you all about bumper sticker printing.
Bumper stickers are usually customized. They have a unique ability to convey messages in a fun and creative way, which is also visually mind-striking. It's never a one size fit for all situations in the business. This is where customization plays a significant role in promotional activities.
Are you someone who just loves stickers as much as we do? And want to know how to use bumper stickers as a promotional tool? Then look no further; this blog is just for you.
What are Bumper Stickers and Their Types?
Bumper stickers are also called car decals, car stickers, and promotional decal label signs. They are basically adhesive backed stickers, mainly attached to the bumper of a vehicle, and are often used to express slogans, political views, personal views, advertising, or a joke. These stickers can be personalized, and the creativity for that is endless.
Types of Custom Made Bumper stickers
Die cut:
These are custom-shaped, precisely cut graphic stickers and labels.
Kiss cut:
They are commonly used because they are easy to peel off from the back and apply. It looks stunning!
Glossy Die Cut:
These stickers have a glossy finish because they are UV laminated.
Mattie Die Cut:
They are made for outdoor lamination, durable in quality, and have a matte finish with no visible liners.
Clear stickers:
Front-faced and are usually used on windows, but it is not advisable if the window is tinted.
Advantages of Customized Bumper Stickers in Business Promotion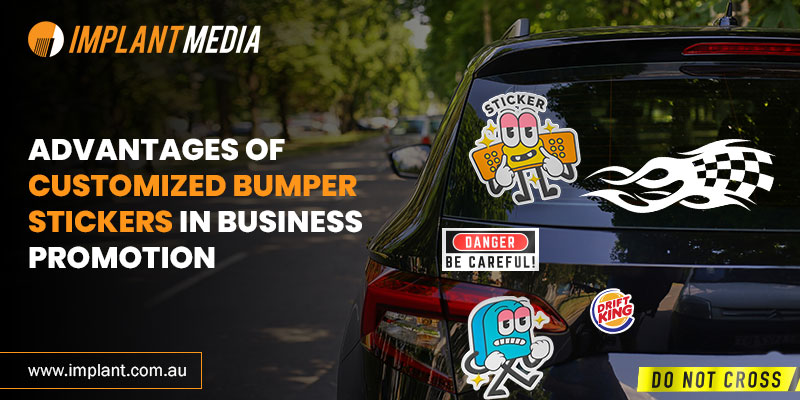 Designing and creating personalized bumper stickers is today's most innovative tool for promotion. Here are some benefits of it:
Cost Effective Advertising
Businesses are always looking for cost-effective promotional ways to advertise in an age where advertising expenses may easily spiral out of control. Car Bumper Stickers are a cost-effective option. Bumper sticker printing is substantially less expensive than traditional types of advertising such as TV or radio ads. After you've made the first investment in design and printing, your custom stickers may reach a large audience for a lengthy period of time without incurring extra fees.
Widespread Exposure of Brand
The main goal of advertising is to reach a wide range of audiences. Personalized Bumper stickers succeed in this aspect since they are mobile billboards. It will go wherever your consumers go, from the grocery store to their job and beyond. This extensive awareness keeps your brand in the forefront of people's thoughts, increasing the possibility of them engaging with your products or services.
Long-lasting Impact
Unlike those digital ads that disappear with one click, they have a habit of staying. They remain attached to the cars for a longer period of time, promoting your brand even after the first installation. This strategy helps your brand's message find a way into the collective mind of your audiences, which increases the chances of engaging with your business.
Encouraging word-of-mouth marketing
Custom bumper stickers have a unique feature that can spark conversations. When you see a hilarious, mind blowing or cringe sticker on any vehicle or car, you are definitely going to share this with someone else, who might be your friend, family member or your co-worker. So this way, the brand's message will travel and reach more customers. Which means you just gave a brand free promotion by talking about it to someone else.
Targeted Marketing
Custom stickers for cars and other vehicles can be strategically put that fit your target demographics. For Eg; If you own a cake shop, you could place your personalized stickers on the vehicles, especially those cars that are parked outside a bakery, apartment, or any other store. This way, you have a high chance of reaching potential clients who are more likely to be interested in your products and services.
Some Creative Ways to Use Bumper Stickers For Promotion
As it is a fun tool to market your product or service, here are some creative approaches that will draw more attention from potential customers:
Contests and Giveaways
Partner with Local Businesses
Support Causes and Run Charity events
Limited Edition Collectibles
QR code Interactivity
Conclusion
Bumper stickers are a flexible and cost-effective marketing technique. They provide extensive awareness, long-term influence, and the possibility of customized marketing. You can leave a lasting impression on your target audience by developing successful custom stickers that feature compelling images, clear content, and obvious branding.
Implant Media is the industry leader in custom sticker printing in Melbourne. We offer our best services at an affordable price. Our expert team will guide you throughout the entire journey from planning to creating a stunning bumper sticker just for you. 
So don't underestimate the power of bumper stickers in business marketing and promotion. And also Implant Media, where we can even make the impossible possible with our touch of magic. So embrace this promotional strategy and watch your brand's visibility and success soar down the road with us.