As the market gets inundated with new products and brands over the years, businesses need to constantly invent creative and unique marketing strategies. They need to catch the eye of the consumer and retain their interest consistently. One of the methods that have been very popular over the last few decades is the use of promotional merchandise. The goal of promotional products is to create multiple impressions and help you remain visible to your customers. For this, the product needs to be appealing, useful, durable, and easy on your pocket. Branded USB drives tick all these boxes and it's no wonder they are a favorite choice for business promotion across industries.
USB flash drives are devices that provide external storage and can be used for storing, transferring, and sharing all kinds of files like documents, images, and even programs. Standard USB sticks are as big as a thumb and weigh just about 30 grams. So, what makes branded USB drives such a great fit as a promotional product for businesses? Let's explore the reasons.
How do Promotional USB Drives Help Your Business?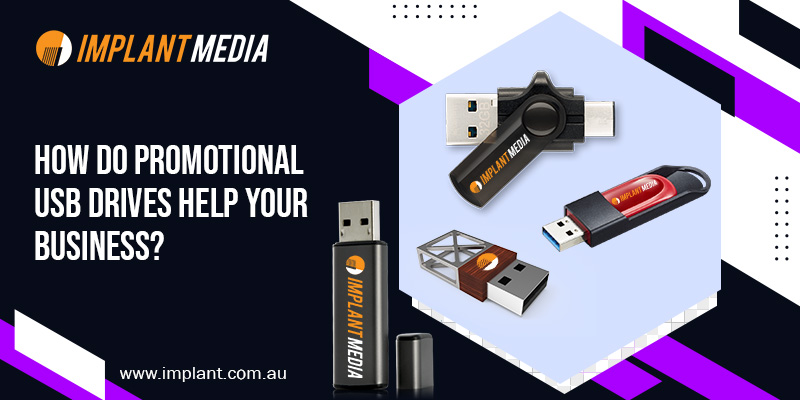 With the increased use of the cloud, many had predicted the end of USB flash drives. However, this handy storage device continues to be used extensively by all of us. The constantly evolving technology and the universal compatibility of USB flash drives make them very popular for work and personal use. But, is this the only reason why branded USB drives are a top choice as promotional merchandise? Let's explore deeper to see how custom-printed USB sticks can help promote your business.
Utility –
When we buy a gift for someone we always seek something that will be useful for the recipient. This is where personalized USB drives score high due to their utility value. USB flash drives can be used for storing and sharing files whether it be documents, images, videos, games, or even programs. Unlike the cloud, you don't need an internet connection to use USB flash drives.
Cost –
This is a vital factor in choosing a promotion strategy as any business would want to maximize the ROI of any marketing method. Custom-printed USB sticks do the job without burning a hole in your pocket. This makes it a top choice for businesses of all sizes. It is highly economical when you customize USB sticks and get them produced in bulk. You can then give them away at promotional events, to your clients, and your employees, making sure that your brand travels far and wide.
Visibility –
When you give out custom-printed USB sticks at a trade fair or a marketing event, you can be sure that they will travel around with your customers and clients. They are small and light and easy to carry. Each time your employee or customer or client uses a branded USB stick it leads to more impressions and visibility for your brand.
Longevity as a promotional item –
The durability and high utility value of personalized USB drives ensure their long life as promotional items for your business. A Global Ad impressions study found that 58% of consumers own promotional USB drives and 43% of these are likely to retain possession of them for more than 2 years. This results in higher brand visibility and recall.
Versatility –
It is important for promotional merchandise to not just be useful but also attractive and interesting. You can customize USB sticks in a variety of ways to make them visually appealing and unique. You can opt for different shapes for the branded USB drives to reflect the idea of your product and brand.The drive can be shaped as a business cards printing or a bracelet or even a figurine. The promotional USB drives can also be of different materials depending on the look you want and your budget. You can choose from wooden, plastic, metal, etc. Creatively designed USB flash drives also get retained by customers as keepsakes. The closer the design is to your brand, the better the recall value of the personalized USB drives.
Paperless marketing –
USB flash drives provide many options for storage capacity from 8 GB to 128 GB. Instead of handing out brochures and flyers which get readily discarded, you can use some space on the promotional USB drives, that you hand out to customers and clients, to talk about your products and brand. You can include contact information, an introduction to your brand, catalogs, and even videos. Having an auto-run feature on the personalized USB drives will ensure that these files are launched automatically when the user plugs one of them in.
Conclusion
We have seen the many advantages you get when you customize USB drives and give them to your customers, employees, and clients. Personalized USB drives are not only light and useful but they also serve as excellent vehicles to promote your brand.
It is important that you choose a vendor who can provide outstanding service to customize USB sticks and produce them. At Implant Media, we guarantee top-quality output with a turnaround time of 24-48 hours and free delivery across Australia. Our highly competent and creative team will help you stand out from the crowd with uniquely designed USB flash drives. We have hundreds of styles that you can choose from and we offer free proofing of the design to ensure that you get what you ask for. Call us now to get a quote.